SCHRY-WAY CLOSE-TOLERANCE POLY FOAM INSERTS
Custom-Shaped for Wide Variety
of Packaging
Our foam shaping department is fully equipped for drilling, slicing, hot-wire milling, band-saw shaping, die cutting and the assembly of close tolerance poly foam inserts. Originally established to provide inserts exclusively for our own line of high-quality hardwood cases, the department has been expanded to process foam on a custom basis for any type of packaging available today. We are essentially short-run specialists but have the capability of handling high-volume runs with efficiency and considerable accuracy.
FEATURES

---
Engineering Service

You can take advantage of our 20 years' experience in foam design and layout at minimal or no cost. We work from your actual part of part drawings to accommodate proper clearance, compression, foam type and density. This in-plant design and sales service eliminates the need for costly field engineering sales calls.


Greater Accuracy

Tolerances are typically 1/16"
on location and depth of cut, 1/32" on length and width.




Our hot wire cutting machine eliminates the need for templates while actually improving quality.


Low Prices

Efficient plant operation and state-of-the-art equipment make our prices very competitive.


Prompt Delivery

Although delivery varies according to the size and complexity of order, it is usually superior to that of the industry in general.
Single-source packaging

Our hardwood cases are made for packaging quality products such as tooling, test equipment and measuring devices. The foam shaping department makes it possible to obtain complete packaging from a single source.
PRICE LIST
Available in the SchryWay Catalog.

---
FOAM IS PERSONALLY GEARED TO YOUR SPECIFIC PIECE(S) OF CARGO. EACH IS DESIGNED TO YOUR SPECS.
Our foam shaping department is equipped for drilling - slicing - hot wire - hot wire template cutting - band saw shaping - assembly - etc.
---
There are several variations of foam from which to choose. The most common are polyester and polyethylene:
MATERIAL DESCRIPTION

---

POLYESTER FOAM SOLIDS -
STANDARD SIZES
Charcoal Gray * 1.8 to 2.0 lbs. Density
MIL P 26514 TYPE 1 CLASS 2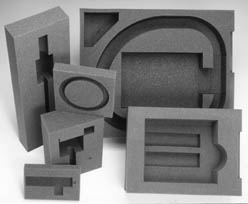 ---
POLYETHYLENE FOAM SOLIDS -
STANDARD SIZES
Polyethylene plastic foam is a tough, lightweight, flexible but firm foam consisting of millions of closed, air filled cells, that will resist most solvents
Available in Black, Blue and Antistatic (Pink)
MIL PPC 1752 TYPE 1 CLASS 2