A complete selection of reusable containers.
The SCHRY-WAY MD Series of cases is our medium duty series. It combines both traditional style and beauty with superb strength and protection. Made from Pacific Coast Maple and Birch, these cases are all lock joint construction with dovetailed sides and ends which provides maximum strength. The recommended 50 pound load limit makes these cases perfect for test equipment, tooling, instrumentation, aircraft parts, and other products that require extra protection.
We offer these cases in a large variety of standard sizes and hardware combinations to fit your individual needs. And if a custom size or style is required, we are capable of meeting that need too. We feel that these cases are priced to offer you an excellent value for your packaging dollar.
FEATURES

---
Variety

Standard sizes range in length from 6" to 36", 6" to 24" in width, and 3" to 12" in height. Custom sizes are also available.


Hardware

A large variety of hardware combinations allows for maximum flexibility to meet your needs.




All lock joint dovetailed construction provides maximum durability and protection. These cases are fine sanded and finished which highlights the warmth and beauty of the wood.


Value

In most instances, these cases provide years of service in protection and display of your parts.


Delivery

We manufacture these cases from the beginning. Our lead times vary depending on quantity and the amount of work we have in house. We make every effort to give as prompt delivery as possible.
Price List

Available in Schry-Way Catalog.
Click here to request a Catalog.

---
MATERIAL DESCRIPTION

---
WOOD

Sides and Ends 1/2" PC KD Maple
Top and Bottom 1/2" Birch or Maple Plywood


JOINTS

Sides and ends are dovetailed
Top and bottom tongue and groove into sides.


HINGE

1.06" continuous nickel plated steel piano hinge.




CATCHES

Snap down type - nickel plated steel

HANDLES

Chest type - zince plated steel
Suitcase type - nickel hardware - polypropylene strap.


FINISH

Clear gloss water-borne resin.
Resistant to water and most household chemicals.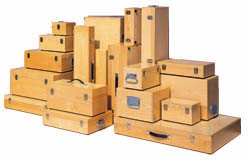 There are eight styles from which to choose:

MD10 -
Hinged Lid, Catches and Lid Stays

---

MD1C -
Hinged Lid, Catches, Chest Handles and Lid Stay

---

MD1S -
Hinged Lid, Catch, Suitcase Type Handle and Lid Stay

---

MD1T -
Hinged Lid, Catch, Suitcase Type Handle on Top & Lid Stay

---

MD3C -
Lift Off Lid, Catches,
Chest Type Handles

---


MD3T -
Lift Off Lid, Catches, Suitcase Handles On Top

---

MDZT -
Lift Off Lid, Catches, Suitcase Type Handle on Top

---


MDZC -
Lift Off Lid, Catches, Chest Type Handle on Ends
Case part numbers are specified as follows: Style - Length x Width x Height (Example: MD10 - 9x6x4)