A complete selection of reusable containers.
The SCHRY-WAY L1 Series of hardwood cases is designed for light weight applications. These high quality cases are designed to both protect and display their enclosed products. The ridged nature of wood provides excellent protection against crushing and puncture and when combined with custom fit foam inserts has excellent shock absorption qualities. These cases are finely sanded and finished with a gloss water resistant finish. This series is constructed from Alder which provides a rich warm appearance and enhances the product enclosed.
These cases are intended for use in a variety of industries such as optics, electronics, medical, and tooling. They are the best way to package delicate instruments for storage and display.
FEATURES

---
Variety

The inside dimensions of this series range from 3" to 18" in length, 3" to 12" in width, and 2" to 6" in height. Standard sizes are listed in the catalog. Custom sizes are also available in quantities.


Hardware

Hinge: Continuous Aluminum.
Catch: Nickel plated steel
Handle: Vinyl strap Nickel Hardware




Water-borne Resin Gloss


Quality Construction

Lock joint construction
Tongue and Groove - Rabbet


Wood

Sides: 3/8 Alder
Top & Bottom: 1/4 Alder or Plywood depending on size


Prices

Catalog includes price list
Quantity discounts available
Excellent Value

Call us for pricing, or click here to request a catalog.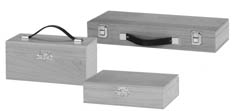 There are three styles from
which to choose:

L1S -
Suitcase style:
Hinged lid, catches, handle



L1T -
Hinged lid, top handle, catch
Case part number are specified as follows:
Style - length X width X height
(EXAMPLE L10 9X6X4)
Maximum Recommended
Load Weight: 4 pounds
STANDARD SPLIT LINES